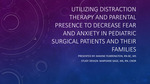 Document Type
Presentation
Abstract
Research Question: The purpose of this study was to explore distraction and parental presence preoperatively, intraoperatively, and postoperatively, and their effect on fear and anxiety in children and parent.
Hypothesis: It was hypothesized that children who utilize distraction and have parental presence throughout the perioperative process will experience less fear and anxiety as measured by the Fear, Anxiety and Stress Tool (FAS).
Methods: To test the hypothesis, a quasi-experimental study was utilized. The intervention group was provided a tablet pre-loaded with age-appropriate games and the parent was provided a disposable jumpsuit, head and foot covers, and allowed to accompany the child into the operating room until induction of anesthesia, and was also allowed into the PACU as soon as it was deemed safe by the nurse.
Results and Conclusion: The target number of 50 in each group was not reached; there were 37 in the intervention and 20 in the control groups. Using a two-sided Wilcoxon test, no difference was found between groups on the FAS scale; however the intervention group was trending towards statistical significance. Parental surveys indicated parents were very satisfied with being allowed to accompany their child into the operating room.
Implications: The study was terminated prematurely due to lack of continued support from anesthesia for parental presence. It is believed that with continued support and greater numbers, we would have reached statistical significance.
Publication Date
9-30-2022
Recommended Citation
Fearrington, Maxine and Sage, MaryJane, "Utilizing Distraction Therapy and Parental Presence to Decrease Fear and Anxiety in Pediatric Surgical Patients and their Family" (2022). Nursing Research and EBP Day. 9.
https://scholar.rochesterregional.org/nursingresearchday/9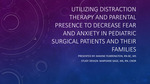 COinS