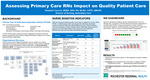 Abstract
The purpose of this work was to examine how a large multi-site primary care based organization established an organizational structure that supported the determination, definition, measurement, and reporting of nursing sensitive indicators (NSIs) specific to ambulatory care nursing. NSIs capture the value of care provided by nurses and are a critical component of ANCC Magnet designation. The organization considered that successful pursuit of Magnet designation in an all ambulatory organization would involve establishing a framework to report NSIs that included defining nursing units and NSIs meaningful to the organization.
A multidisciplinary team led by nursing was established to examine and identify the most meaningful metrics to collect and measure. A review of the Ambulatory Care Nurse-Sensitive Indicator Industry Report: Meaningful Measurement of Nursing in the Ambulatory Patient Care Environment and Healthcare Effectiveness Data and Information Set (HEDIS) measures was conducted, and meaningful NSIs were selected. Additionally, the team worked to establish an organizational structure for NSI reporting that organized practice locations into units accounting for geography and specialty, which supported Magnet requirements for data reporting.
An electronic dashboard was built to monitor the selected NSIs for each defined unit as compared to established benchmarks. This allowed the organization to target improvements by location, monitor the results of improvement initiatives, and establish their eligibility to achieve Magnet designation. Through establishing a means to measure and benchmark NSIs meaningful in ambulatory care, the organization is well-positioned to drive improvements and pursue Magnet designation.
Publication Date
9-30-2022
Recommended Citation
Carreira, Elizabeth, "Assessing Primary Care RNs Impact on Quality Patient Care" (2022). Nursing Research and EBP Day. 7.
https://scholar.rochesterregional.org/nursingresearchday/7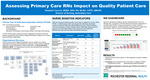 Included in
COinS