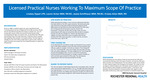 Abstract
BACKGROUND: Nurses on 4800, a medical-surgical unit, were feeling overwhelmed by an increasing patient load due to Registered Nurse (RN) vacancies. No not only was staff morale at a low, but the staff was concerned about the impact on patient care. Nursing staff on 4800 consists of RNs as well as Licensed Practical Nurses (LPNs). As the team contemplated the high nurse:patient ratio, they identified that LPNs were not working to the full scope of their practice. The team began to wonder if ensuring that LPNs could work at the highest level of their scope of practice if this would help mitigate some of the stress experience by RNs.
A literature search was completed and while there is evidence to support improved patient ratios can lead to a decrease in length of stay and improved patient outcomes, there was not much that discussed LPNs working at their fullest scope of practice in the hospital setting. On 4800, LPNs were not working to their fullest scope. This was due in part to system-wide and EPIC barriers. The EPIC barriers include the verbiage found within the program. There were some modifications made to EPIC, such as the change from "Pain Assessment" to "Pain Observation;" however, EPIC was unable to change the "Head to Toe Assessment" flowsheet. The hospital was able to modify their policy to ensure LPNs were practicing within their scope and documenting "Head to Toe Observations."
PLANNING: After having reviewed the literature, the leadership team, comprised of the Nurse Manager, Assistant Nurse Manager, Clinical Resource Team, and Lindsey Sippel LPN, felt the next step was to design a new care delivery model that would incorporate LPNs working to their full potential. The team began to work closely with the Clinical Nurse Specialist to learn system and state policies regarding LPNs to create a care delivery model that complied with state and local policies. To compensate for what LPNs are not able to document, a Free Charge RN (FCRN) position was developed. The FCRN's role consists of acknowledging orders, administering medications outside of the LPNs scope, and completing documentation outside of the LPN's scope. After identifying key stakeholders and drafting a rollout plan, the team identified measures that could be used to evaluate this QI project's success.
INTERVENTION: The leadership team designated a Head to Toe competency as the primary focus of the project. Leadership created a PowerPoint designed to educate LPNs on Head to Toe observations and specific observations for each body system. Completing the Head to Toe competency ensured that the LPNs knew how to properly observe their patients and document it accurately. This meant the LPN no longer had to be paired and supervised by a RN, instead the LPN is now able to independently take their own five patient assignment. The FCRN was there to provide supervision and the necessary care that the LPN is unable to provide due the scope of their practice. In addition, the unit RNs were provided education on what is within the LPN's scope of practice and the FCRN role.
RESULTS: The new care delivery model is still being evaluated; however so far there has been an improvement in nurse to patient ratios.
DISCUSSION: Since introducing this care delivery model, staff cohesiveness has improved when utilizing a FCRN. Since nurse satisfaction was not measured prior to the initiation of this care delivery model, this should be studied in the future if expanded to other units. This care delivery model might be applicable in other medical-surgical units across the system and we encourage other units to consider adopting this care delivery model. The barrier that has been identified since starting the care delivery model is the lack of provider knowledge on the LPN scope of practice. To combat this providers should be educated on what LPNs can and cannot do within their scope, and how 4800 is able to coordinate care that is outside of the LPNs scope, through the use of a FCRN.
Publication Date
9-30-2022
Recommended Citation
Sippel, Lindsey; Sicker, Lauren; Schiffhauer, Jessie; and Aliten, Kristee, "Licensed Practical Nurses Working To Maximum Scope of Practice" (2022). Nursing Research and EBP Day 2022. 5.
https://scholar.rochesterregional.org/nursingresearchday/5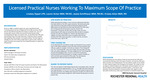 Included in
COinS