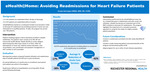 Abstract
The purpose of this evidence-based project was to reduce readmission rates for congestive heart failure (CHF) patients. It was hypothesized that targeted, nursing led care would reduce readmission rates. To test the hypothesis, we engaged patients post-discharge to enroll in eHealth@Home. eHealth@Home is a program at Rochester Regional Health (RRH) that serves high need CHF patients with frequent acute care utilization. These patients receive intensive monitoring and follow-up from a dedicated eHealth nurse, nurse practitioner and community health worker who work in tandem with a patient's RRH provider to ensure that seamless and quality care is delivered. Visits were done in person at a patient's house and through telemedicine; frequency of visits and interventions were dictated by the patient's eHealth nurse practitioner. All patients received extensive education, medication reconciliation, symptom management and care coordination.
The results of the testing showed a 50.97% reduction in readmissions for patients enrolled in eHealth as compared to the 12 months prior to enrollment. Readmissions were defined as any hospitalization occurring within a 30-day period from discharge. In addition to readmissions, utilization reduction was also seen for admissions, observation stays, and emergency room visits. From the data obtained, it is concluded that the hypotheses was supported.
To further study this topic we would like to compare eHealth patients to that of a randomized control group to rule out any extraneous variables. Additional study opportunities include surveying patient's perceived benefits of the program and perceived quality of life pre vs post enrollment.
Publication Date
9-30-2022
Recommended Citation
Harrington, Krysta, "eHealth@Home: Avoiding Readmissions for Heart Failure Patients" (2022). Nursing Research and EBP Day. 4.
https://scholar.rochesterregional.org/nursingresearchday/4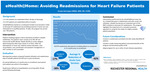 Included in
COinS