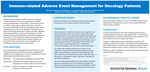 Abstract
Rapid advances in cancer immunotherapy using Immune Checkpoint Inhibitors have led to significantly improved survival of patients. Immunotherapy is also associated with multiple immune-related adverse events (irAE's). The purpose of this research is to determine if reinforced patient education regarding early recognition/management of side effects/adverse events decreases serious immune-related events. It is hypothesized that utilizing a patient education plan may determine if these interventions can manage immune-related adverse events and thereby decrease the severity of these events.
Our team reviewed literature addressing follow-up care for Oncology patients receiving Immunotherapy. To promote efficient management of immune-related adverse events several major oncology organizations (including Oncology Nursing Society) have published guidelines for diagnosis, grading, treatment and care of patients receiving immunotherapy. However, follow-up care has not been systematically studied.
The results of the literature discussed the importance of patient education, early detection and reporting of side effects as well as continued surveillance after completion of treatment to detect delayed toxicities. From the literature reviewed, it is concluded that early patient reporting of side effects/adverse events demonstrates an increase in resolution and improved management of adverse events during treatment with immunotherapy. However, further studies need to be conducted. The implications of the research inspired our team to pursue development of comprehensive immunotherapy guidelines for telephone triage.
Publication Date
9-30-2022
Recommended Citation
Casselbury, Mary Beth; Davis, Lori; and Wilson, Sharon, "Immune-Related Adverse Event Management for Oncology Patients" (2022). Nursing Research and EBP Day. 2.
https://scholar.rochesterregional.org/nursingresearchday/2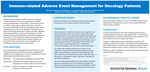 Included in
COinS