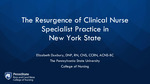 Document Type
Presentation
Abstract
BACKGROUND: Clinical Nurse Specialist (CNS) practice in New York State (NYS) is not at full scope of practice according to the National Association of Clinical Nurse Specialists (NACNS) Conceptual Model (NACNS, 2019).
METHODS: This legislative evaluation and policy analysis of NYS Education Law Article 139, Nursing §6911 Certification as a clinical nurse specialist was the first step toward making recommendations to update the law (NYS Office of the Professions, 2018). The Eightfold Path Guide was used as a framework for legislative evaluation and policy analysis. A convenience sample of CNSs in NYS was used for input and feedback on the policy brief to present to NACNS.
INTERVENTIONS: Initial data on current practice was collected using an online survey. The Initial NYS CNS Practice Survey results were used to guide discussions related to the current practice in an online focus group. The focus group identified objective concepts for the policy brief. A second online survey was used to validate the concepts in the policy brief.
RESULTS: The results of the Initial NYS CNS Practice Survey, focus group, and second survey all recommended changes to the NYS law governing CNSs. The policy brief will be presented to NACNS to gain support for legislative changes to achieve full scope of practice for CNSs as APRNs in NYS.
CONCLUSIONS: This project has re-invigorated the CNSs in NYS to advocate for full scope of practice. This project brings forward the voice of the NYS CNSs through this policy brief to expand scope of practice within the state.
Publication Date
9-30-2022
Recommended Citation
Duxbury, Elizabeth, "The Resurgence of Clinical Nurse Specialist Practice in New York State" (2022). Nursing Research and EBP Day. 19.
https://scholar.rochesterregional.org/nursingresearchday/19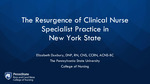 COinS