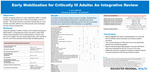 Abstract
Objectives: Despite emerging evidence on the health benefits of early mobilization (EM) among critically ill patients, immobility and perceived barriers to EM persists. This integrative review aimed to summarize existing data on nurse-led EM, including how EM is defined, how EM protocols were developed, and key components of their protocol.
Methods: The protocol for this integrative review was developed in consultation with a trained librarian. A comprehensive search was conducted using the databases CINAHL, Embase, and ProQuest Nursing and Allied Health in April 2021. 6% of results were independently screened by 2 reviewers and the remaining were screened by a single reviewer. Studies were excluded if they included patients < 18 years old, were not available in English, did not include original data, if the intervention took place outside of the ICU, and if their study protocol excluded mechanically ventilated patients.
Results: Six studies met our criteria and were included. EM definitions commonly included implementing within a specified time frame. Protocols were developed by adapting protocols that were not initially nurse led, by an expert panel at the institution, or unspecified. Positive patient outcomes were associated with nurse-led EM including, but not limited to, reduction or eliminations of hospital acquired infections, reduction of vasoactive agents and sedation, and decreased length of stay along with significant hospital cost savings.
Conclusions: Results highlight the need for consensus on nurse-led EM approaches to facilitate clinical translation and improve patient outcomes. Further research is needed to develop an evidence-based protocol for nurse-led EM among critically ill adults.
Publication Date
9-30-2022
Recommended Citation
Jarvis, Kate, "Early Mobilization for Critically Ill Adults: An Integrative Review" (2022). Nursing Research and EBP Day. 17.
https://scholar.rochesterregional.org/nursingresearchday/17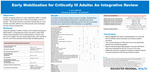 Included in
COinS