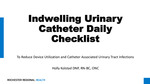 Document Type
Presentation
Abstract
Question: The purpose of this EBP project was to determine if the implementation of a Bundle (ABCDE) Checklist for CAUTI prevention in the ICU, compared to current practice, would affect CAUTI and device utilization rates over 8-10 weeks.
Hypothesis: It was hypothesized that utilizing a checklist daily would ensure preventive measure were adhered to resulting in decreased CAUTI rates, decreased utilization rates, and increased documentation compliance. To test the hypothesis the checklist is completed daily by a leader or champion. The checklist will serve as an audit tool to ensure the interventions are completed daily on each patient with a urinary catheter. The checklist is also available to use upon insertion of indwelling urinary catheters.
Results: The results compare 8 weeks pre-implementation to 8 weeks post implementation. Pre data showed 353 Foley days, an average rate of 0.8 for device utilization, and a CAUTI rate of 3. Post data showed 221 Foley days, average utilization rate of 0.5 and zero CAUTI. 192 Foley checklists for 67 patients were completed.
Conclusion: Decreasing CAUTI will create improved outcomes for patients, reduce financial burdens to patients and organizations and overall improve the health of the community. The checklist serves to help engage and empower the nurses caring for the patient to reduce catheter use and ensures daily compliance.
Implications: To further study this topic, it would be necessary to implement an electronic version of the checklist, engage more unit champions, and increase the use of the checklist on insertion.
Publication Date
9-30-2022
Recommended Citation
Kolstad, Holly, "Indwelling Urinary Catheter Daily Checklist to Reduce Device Utilization and Catheter Associated Urinary Tract Infections" (2022). Nursing Research and EBP Day 2022. 15.
https://scholar.rochesterregional.org/nursingresearchday/15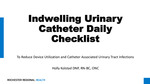 COinS