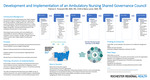 Abstract
The purpose of this work was to research, develop, and implement an ambulatory nursing shared governance council (ANSGC) to support the pursuit of Magnet designation within the Primary Care and Specialty Institute (PCASI) ambulatory care nursing environment at Rochester Regional Health. PCASI is comprised of over 115 practices located throughout 8 counties. Literature supports shared governance as a mechanism to increase nurse engagement, nurse retention, improve patient outcomes and promotes partnership between front line nurses and administration. Nursing Shared Governance is a pillar of the American Nurses Credentialing Center (ANCC) Magnet culture and a critical component of Magnet designation.
PCASI nursing leaders, also serving as ANSGC advisors, developed the foundation to support meaningful execution and development of an effective structure, ensuring adequate representation of all PCASI nurses. The ANSGC advisors supported and empowered PCASI nurses throughout the implementation process. Essential to success was evaluation of the perceived baseline management style within PCASI and nurse understanding of shared governance.
The ANSGC advisors identified the Index of Professional Nursing Governance (IPNG) survey, an evidence based tool, to establish baseline understanding of PCASI nurse perceptions around professional governance. Initial survey results indicated the presence of a traditional management style.
Implementation of an ANSGC has launched a structure for shared governance in the ambulatory setting. The ability to measure and benchmark nurse perceptions surrounding shared governance in the ambulatory environment provided PCASI with meaningful information to help drive improvements across and positioned the organization to achieve initial Magnet designation in July 2022.
Publication Date
9-30-2022
Recommended Citation
Fioravanti, Patricia K. and Larner, Maria, "Development and Implementation of an Ambulatory Nursing Shared Governance Council" (2022). Nursing Research and EBP Day. 13.
https://scholar.rochesterregional.org/nursingresearchday/13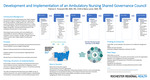 Included in
COinS