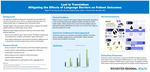 Abstract
The purpose of this research was to describe the development, implementation, timeline, and future evaluation of an evidence-based initiative to improve the outcomes of limited English proficiency patients. It was hypothesized that bridging the communication gap between patients of lesser English proficiency and their healthcare providers would increase patients' participation and understanding of their hospital stay. Improving discharge instructions and ensuring comprehension would promote well-being and health as patients are adequately equipped at discharge to assume their own healthcare needs. To test the hypothesis, a literature search was conducted of professional databases. Fifteen scholarly articles contributed to the research base of this project.
The research results showed that in 2020, Newark-Wayne Community Hospital saw 4,547 patient discharges (U.S. Centers for Medicare). Given that 16.9% of those patients were readmitted, that would equate to approximately 768 readmissions (U.S. Centers for Medicare). If each readmission costs the national average of $15,200 per case, this will lead to a total cost of $11,673,600 in readmission charges (Weiss & Jiang, 2021). However, an investment of $5,071 into this initiative for patients of lesser English proficiency could prevent those readmissions. Therefore, this program may save more than $10 million on readmission costs annually. The research supports the hypothesis.
To further study this topic, I would utilize a hospital with a higher rate of lesser English proficiency patients. This would provide a more realistic picture of translation software's costs and utilization rate and the resources necessary to facilitate admission and discharge.
Publication Date
9-30-2022
Recommended Citation
Van Dorp, Megan R., "Lost in Translation: Mitigating the Effects of Language Barriers on Patient Outcomes" (2022). Nursing Research and EBP Day 2022. 12.
https://scholar.rochesterregional.org/nursingresearchday/12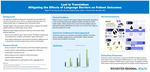 Included in
COinS