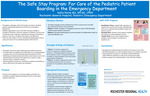 Abstract
The purpose of this evidence-based project was to explore alternative methods to address the process for admitted patients boarding in the pediatric emergency department. It was hypothesized that creating an intentional program of vigilance for safe care of the boarding pediatric patient via a pediatric admission care RN (PAC-RN), supported by interventions including on time medication administration, monitoring, and admission process education. Could reduce adverse events, total inpatient length of stay, morbidity and mortality and improve overall patient/family satisfaction.
A systematic literature search to review patient boarding in the emergency department was conducted. The literature reviewed supported the implementation of a nurse driven program providing oversight and care for the pediatric patient boarding within the ED. The vigilance/patient safety conceptual framework was developed to depict nursing vigilance in combination with patient safety. This framework aims to help create an environment in which the nurse is continuously anticipating needs of the patient through close attention, situational awareness, and readiness to act. The combination of vigilance and patient safety result in a concerted collaborative attempt to protect and prevent harm to the patient.
Cost analysis, return on investment, and project implementation timeline were performed, as well as analysis of facilitators and barriers. This EBP change project holds the potential to improve care for the admitted patient boarding in the pediatric ED. Improving patient outcomes not only is beneficial to patients/families, but to staff and the healthcare institution at large and thus should be brought to fruition.
Publication Date
9-30-2022
Recommended Citation
Rorke, Kellie, "The Safe Stay Program: For Care of the Pediatric Patient Boarding in the Emergency Department" (2022). Nursing Research and EBP Day 2022. 11.
https://scholar.rochesterregional.org/nursingresearchday/11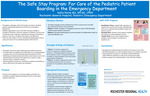 Included in
COinS